Contracts
Closing Contracts with Confidence: Principles for Smooth Contract Modifications & Closeouts
August 30, 2023
As the fiscal year-end approaches, contracting officers may need to review existing contracts for necessary modifications or closeouts. This involves ensuring contracts are properly executed, payments are processed, and any required documentation or deliverables are obtained. Effective management of contract modifications and closeouts helps to ensure compliance and avoid potential audit issues.
Embrace Agile
Staying fully engaged and aware of your company's contracts can help maximize contract value from inception to close out. The use of Agile methodologies within the contract management process will allow for a more efficient management of the overall contract. Agile uses sprints, which are short, focused project cycles. Throughout these sprints every member of the team has a responsibility to see a project to completion.
Arlo had a very involved integration with thousands of ODC items, and an extensive amount of tracking. Since we applied the Agile method throughout the life of the contract,  we had everything broken down and accounted for when it came time to definitize and then ultimately closeout. All items that were integrated were accounted for with the warranty information cataloged and in an electronic filing system that they could easily access for future use. The customer praised our ability to make their ease of tracking and closeout on a complex contract a breeze.
Installing this methodology from the start helps to foster good working relationships between the parties of a contract. By breaking a project down into smaller cycles, with frequent points of inspection, the likelihood for a contract to stay on track and timely increases significantly, while creating accountability.
Contract Modifications
Understanding the Need: Contractors should maintain open lines of communication with their contracting officers to stay informed about any potential changes or modifications required throughout the contract lifecycle. This includes understanding the purpose and scope of the modification, whether it's related to:
changes in deliverables
pricing adjustments
schedule modifications
or other contractual aspects.
Timely Response: When a contracting officer initiates a modification request, it's crucial for contractors to respond promptly and acknowledge the request. This allows for efficient collaboration and prevents unnecessary delays in the modification process.
Documentation and Supporting Information: Contractors should prepare the necessary documentation to support the requested modification. This may include cost or pricing data, technical specifications, revised schedules, or any other relevant information. Providing complete and accurate documentation helps streamline the review and approval process.
The ability to track costs to award and be in communication with the customer will allow the customer to better understand what funds may be remaining for reallocation. For one specific contract, our tracking and ability to procure parts needed at a discount allowed us to communicate in enough time for the customer to modify and add scope to our contract and still be within funding.
Compliance: Contractors must ensure that any proposed modifications comply with applicable regulations, such as the Federal Acquisition Regulation (FAR) and agency-specific policies. They should work closely with their contracting officers to ensure that the modifications meet all legal and regulatory requirements.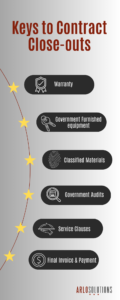 Contract Close-outs
Contract closeout occurs once all contract requirements have been fulfilled. This process can be cumbersome and take a significant amount of time, especially with cost-reimbursement contracts. This can add a significant cost to a business, especially small businesses without the dedicated staff for this type of close. For deeper study, GSA has created a Quick Reference Guide.
For Arlo's clients I've created a repeatable and customizable close out package which allows us to have everything needed well in advance of the required timeframes. This system allows us to send everything as a complete package without being requested to do so from the customer.
Here are some special issues that need to be addressed during close out and are paramount in streamlining the process:
Warranty: If a warranty is part of a contract, the contractor is liable to the government, even after final payment is made. Some issues that can arise is not properly handing off the relationship and communicating with the government after final payment.
Government Furnished Equipment: Proper tracking and return of equipment is required prior to close out. An issue that can arise is not properly tracking throughout the life of the contract. This can result in unforeseen costs.
Classified Materials: If a contract involves handling classified materials you must retain data for the follow-on contract, return to the government, or destroy classified materials. Mishandling of classified materials can put your company's clearance in jeopardy.
Government Audits: Understanding the broad rights the government has around auditing is necessary. You must make all records, materials, and other evidence connected to a contract available for audit for 3 – 6 years after final payment, not close out. Having a system for disposal and retention of documents ensures all personnel understand the requirements and records are easily accessible. Other items included in auditing includes final overhead rates. These are determined by reviewing your incurred direct and indirect costs and submitting a final indirect cost proposal within 180 days of the close of the fiscal year.
Service clause: This clause provides that the contractor complete phase-in training for the new contract holder. Having this information at time of bid and putting a plan in place, prior to the end of the contract, is very important to ensure expenses are limited, and your company is prepared to meet this requirement.
Final Invoice and Payment: Contractors should submit their final invoice promptly, accurately reflecting the total value of the work performed. Timely submission of the final invoice helps contracting officers process payments and close out the financial aspect of the contract.
Contractors can ensure a smooth contract modification and close-out process by actively engaging and collaborating with their contracting officers. Providing necessary information, responding promptly to requests, adhering to regulatory requirements, and maintaining good communication are keys to supporting the government client effectively.
About the Author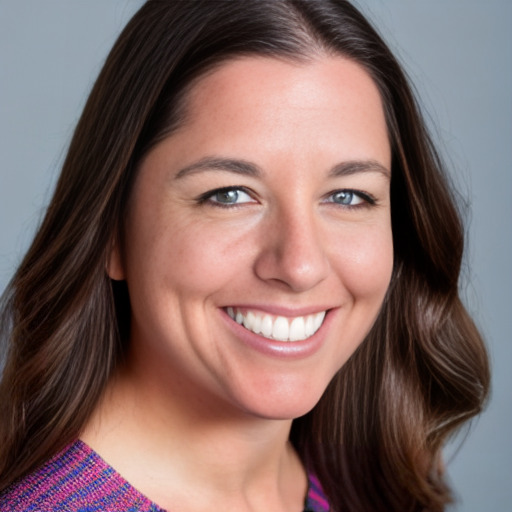 Sarah Bednarz
In Sarah's 15 years, she has been responsible for over one billion dollars in awards and contract management, in addition to over 25 vehicle / schedule awards, 15 mergers and acquisitions, and over 25 joint ventures. She has assisted in moving 10 companies from small business status of less than 50 employees to aging out of the small business program helping to develop policies and procedures that can grow with the company.